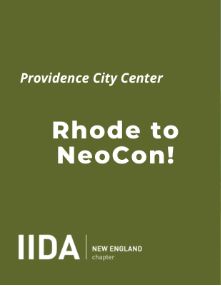 05/2022
SALON – RHODE TO NEOCON – RHODE ISLAND
Retrouvez-nous au salon Rhode to NeoCon : un avant-goût du salon NeoCon qui se tiendra à Chicago du 13 au 15 juin 2022.
Rhode to NeoCon, ce salon sur les innovations d'aménagement intérieur commercial aura lieu le jeudi 12 mai 2022 de 16h à 19h (EST), à Providence dans le Rhode Island !
Pour en savoir plus sur ce salon, cliquez ici !